Do you need a reading program for overcoming Dyslexia?
Do you need a visual and/or hands-on method for teaching reading skills?
If you don't have the time to work with a Reading Program for Overcoming Dyslexia at home, or your child is in a traditional school setting, you will want to learn about programs used by schools and therapists. Making sure your child is receiving the right type of program is important when you aren't able to use a Reading Program for Overcoming Dyslexia at home.
Exploring the information provided here will give you an ability to discuss program options with people who will be providing remedial services for your child.
Any programs listed in this section is a good Reading Program for Overcoming Dyslexia at home.
Can you help your child overcome dyslexia at home? YES! There are any number of good programs available on the market today. There are many tools for teaching reading skills to a child with dyslexia. These programs are readily available to parents. They are perfect for overcoming dyslexia at home. This section will help you explore the options for home remediation through the inexpensive programs.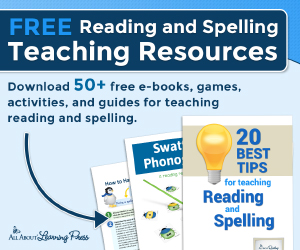 If your child is struggling with reading, there are many considerations for teaching your child reading that you can investigate. You are probably wondering what type of program you should use. This section is designed to help you determine what type of program to use to meet your child's unique needs.
While your child is learning to read, using assistive technology for reading or dyslexia can keep your child from falling behind in other subjects. Good assistive technology for reading can also help your child work more independently. The right types of assistive technology can also help him develop better reading skills. In addition to the Assistive Technology page, you might want to check out Text-to-Speech, Books-on-Tape, and Audiobooks for Children with Dyslexia Assistive technology that helps your child read is not a substitute for a good reading program for overcoming dyslexia. The technology is used in addition to any reading program for overcoming dyslexia that you choose.
Are you unsure whether your child has dyslexia? Does your child reverse numbers and letters? Does he have to decode every word he sees, even if he has just seen it in the previous sentence? These symptoms may indicate your child has a developmental problem that is called dyslexia. OR it might be some other reading disability that manifests itself as dyslexia. The About Dyslexia page will provide additional guidance as you decide whether you want to work on overcoming dyslexia at home. It may help you decide if you need a reading program for overcoming dyslexia, or whether you need other testing first.
The Odysseyware platform is a great audio-visual curriculum choice. They have courses for grades 3-12 in each of the main subject areas. Teaching is provided through video, audio, and text-to-speech options. Your child can have a page read to him by pressing an audio button. Or he can select the text and use the text-to-speech option for highlighted read-aloud. As each word on the page is read, it is bolded and enlarged to emphasize the word being read. We LOVE the Odysseyware learning platform! Please note that Global Student Network offers several other learning programs too. We like the Odysseyware best, but feel free to check out the other offerings to see if you like them better. GSN offers demos, so you can check those out before buying anything. 😉
Specifically for Reading, Check out Logic of English: